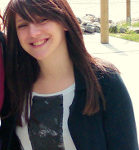 Agnieszka Dabrowska M.Sc.
PhD Student
Faculty of Biochemistry, Biophysics and Biotechnology
E-mail: agnieszka.dabrowska [AT] doctoral.uj.edu.pl
Research interests
Flaviviruses
Virus like particles and viral vectors
Supervisor(s)
prof Krzysztof Pyrc 
Education & Experience
Show More
2016 - : Faculty of Biochemistry, Biophysics and Biotechnology, Jagiellonian University. PhD studies.
2014 - 2016 : Molecular Biotechnology, Faculty of Biochemistry, Biophysics and Biotechnology, Jagiellonian University
2011-2014: Biotechnology, Faculty of Biochemistry, Biophysics and Biotechnology, Jagiellonian University
2008-2011: Jan III Sobieski High School in Krakow
Milewska A, Ner-Kluza J, Dabrowska A, Bodzon-Kulakowska A, Pyrc K, Suder P. (2019). Mass spectrometry in virological sciences. Mass Spectrometry Reviews. In press.
Naskalska A, Dabrowska A, Szczepanski A, Milewska A, Jasik K, Pyrc K.  (2019). Membrane protein of HCoV-NL63 is responsible for interaction with the adhesion receptor. Journal of Virology. in press.
Gruba N, Igancio Rodrigez MJ, Wysocka M, Skoreński M, Grzywa R, Dabrowska A, Lecka M, Suder P, Sienczyk M, Pyrc K, Lesner A. (2018). One step beyond: design of substrates spanning primed positions of Zika virus NS2B-NS3 protease. ACS Medicinal Chemistry Letters. in press.
Naskalska A, Dabrowska A, Nowak P, Szczepanski A, Jasik K, Milewska A, Ochman M, Zeglen S, Rajfur Z, Pyrc K. (2018). Novel coronavirus like particles targeting cells lining the respiratory tract. PLoS One. in press.