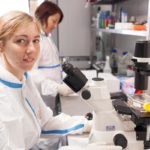 Katarzyna Owczarek (Kosowicz)
PhD Student
Faculty of Biochemistry, Biophysics and Biotechnology
E-mail: katarzyna.kosowicz [AT] uj.edu.pl
Research interests
Grants And Awards
Show More
Szczepanski A, Owczarek K, Milewska A, Baster Z, Rajfur Z, Mitchell J, Pyrc K. (2018) Canine respiratory coronavirus employs caveolin-1-mediated pathway for internalization to HRT-18G cells. Veterinary Research. 49:55
Owczarek K, Szczepanski A, Milewska A, Baster Z, Rajfur Z, Sarna M, Pyrc K. (2018) Early events during human coronavirus OC43 entry to the cell. Scientific Reports. 8(1):7124.
A Milewska, P Nowak, K Owczarek, A Szczepanski, M Zarebski, A Hoang-Bujnowicz, K Berniak, J Wojarski, S Zeglen, Z Baster, Z Rajfur, K Pyrc (2017) Entry of human coronavirus NL63 to the cell. Journal of virology. 92(3). pii: e01933-17.
Milewska A, Kaminski K, Ciejka J, Kosowicz K, Zeglen S, Wojarski J, Nowakowska M, Szczubialka K¥, Pyrc K¥ (2016) HTCC: broad range inhibitor of coronavirus entry. PLoS One. 11(6):e0156552.