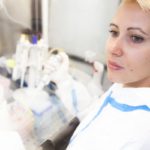 Aleksandra Milewska Ph.D.
Researcher
Laboratory of Virology MCB
Department of Microbiology FBBB
E-mail: Aleksandra.Milewska [AT] uj.edu.pl
Research interests
Flaviviruses
Evolution of coronaviral genomes.
Development of novel inhibitory compounds against viral diseases.
Grants And Awards
Show More
Milewska A, Kindler E, Vkovski P, Zeglen S, Ochman M, Thiel V, Rajfur Z, Pyrc K.(2018) APOBEC3-mediated restriction of RNA virus replication. Scientific Reports. in press.
A Milewska, P Nowak, K Owczarek, A Szczepanski, M Zarebski, A Hoang-Bujnowicz, K Berniak, J Wojarski, S Zeglen, Z Baster, Z Rajfur, K Pyrc (2017) Entry of human coronavirus NL63 to the cell. Journal of virology. 92(3). pii: e01933-17.
Milewska A, Kaminski K, Ciejka J, Kosowicz K, Zeglen S, Wojarski J, Nowakowska M, Szczubialka K#, Pyrc K# (2016) HTCC: broad range inhibitor of coronavirus entry. PLoS One. 11(6):e0156552.
Ciejka J, Milewska A, Wytrwal M, Wojarski J, Golda A, Ochman M, Nowakowska M, Szczubialka K#, Pyrc K#. (2015) Novel polyanions inhibiting replication of influenza viruses. Antimicrobial Agents and Chemotherapy (AAC). 60(4):1955-66.
Benedyk M., Mydel P., Płaza K., Gawron K., Milewska A., Maresz K., Koziel J., Jotwani R., Pyrc K., & Potempa J. (2015) Gingipains: critical factors in the development of aspiration pneumonia caused by Porphyromonas gingivalis. Journal of Innate Immunity. in press.
Huang X, Dong W, Milewska A, Golda A, Qi Y, Zhu Q, Marasco W, Baric R, Sims A#, Pyrc K#, Li W#, Sui J#. (2015). HCoV-HKU1 Spike protein uses O-acetylated sialic acid as an attachment receptor determinant and employs HE protein as a receptor-destroying enzyme. Journal of Virology. In press.
Milewska A, Zarebski M, Nowak P, Stozek K, Potempa J, Pyrc K#. (2014) Human coronavirus NL63 utilize heparan sulfate proteoglycans for attachment to target cells. Journal of Virology. doi: 10.1128/JVI.02078-14.
Milewska A, Ciejka J, Kaminski K, Karewicz A, Bielska D, Zeglen S, Karolak W, Nowakowska M, Potempa J, Bosch BJ, Pyrc K#, Szczubialka K#. 2012. Novel polymeric inhibitors of HCoV-NL63. Antiviral Research. doi: 10.1016/j.antiviral.2012.11.006
Pyrc K, Milewska A, Kantyka T, Sroka A, Maresz K, Kozieł J, Nguyen KA, Enghild JJ., Knudsen AD, Potempa J. Inactivation of epidermal growth factor by Porphyromonas gingivalis as a potential mechanism for periodontal tissue damage. (2013) Infection and Immunity, 81(1):55 doi: 10.1128/​IAI.00830-12.
Milewska A, Pyrc K, Human RIG-1/Mda5 and TLR3 signaling pathways and their role in antiviral response during mucosal infections, Recent Research Developments in Virology, (2012) ISBN: 978-81-7895-563-6, Transworld Research Network
Dijkman R, Jebbink MF, Deijs M, Milewska A, Pyrc K, Buelow E, van der Bijl A, van der Hoek L. Replication dependent downregulation of cellular ACE2 protein expression by Human Coronavirus NL63.Journal of General Virology. 2012. doi:10.1099/vir.0.043919-0.
Pyrc K, Strzyz P, Milewska A, Golda A, Schildgen O, Potempa J; 2011; Porphyromonas gingivalis enzymes enhance infection with human metapneumovirus in vitro. Journal of General Virology. J Gen Virol. 2011 Oct;92(Pt 10):2324-32
Pyrc K, Milewska A, Potempa J; 2011; Development of loop-mediated isothermal amplification assay for detection of human coronavirus-NL63. Journal of Virological Methods. 175(1): 133-136.
P. 409 015: The use of polymers in the treatment and prevention of infections caused by human metapneumovirus virus.
PCT/PL2013/00064. The use of chitosan polymer in the treatment and prevention of infections caused by coronaviruses.
P 399 246. Application of chitosan derivatives for treatment and prophylaxis od coronaviral infection.